Real Estate Investing for Retirement: Harnessing the Power of Self-Directed IRAs​
January 18th, 2024 11 AM CT
Take control of your future and discover a better way to invest for your retirement with a Self-Directed IRA hosted by IRA Club and real estate expert, Aaron Adams.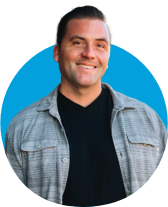 Aaron Adams
CEO & Founder
Alpine Capital Solutions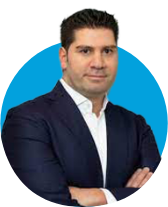 Ramez Fakhoury
Vice President
IRA Club
Dennis Blitz
CEO & Founder
IRA Club
JANUARY 18TH, 2024 12 pm Et, 11 am ct, 10 am mt, 9 am pt 

Founded
In 2008

Members
Administered

1 Billion
in Assets

Full-Time
Dedicated Staff

White
Glove Service
The benefits and potential of Self-Directed IRAs
How to diversify your retirement portfolio with real estate investments
Strategies for identifying promising properties and calculating potential returns
How to reduce your investment risk and maximize your returns
Slide
"Working with the IRA Club has been a great experience. They are professional, competent, and responsive. I have appreciated the communication and help with their platform. I highly recommend them."
Slide
"I have received excellent service and attention from the staff at IRA Club. From the moment that I was introduced to them as an organization and all the way through the process of getting my accounts funded, they have been extremely responsive and an organization that I have recommended to several friends and family."
Slide
"IRA CLUB is everything I was hoping for and more. They helped make the property sale, 401k transfer, and the entire transaction flawless! You'll likely talk to various IRA CLUB reps, but each one had a role and they executed flawlessly. Thank you for making my first IRA CLUB experience perfect."
Since IRA Club opened its doors, they have helped thousands of people just like you secure their financial future. Meet the experts you'll be hearing from.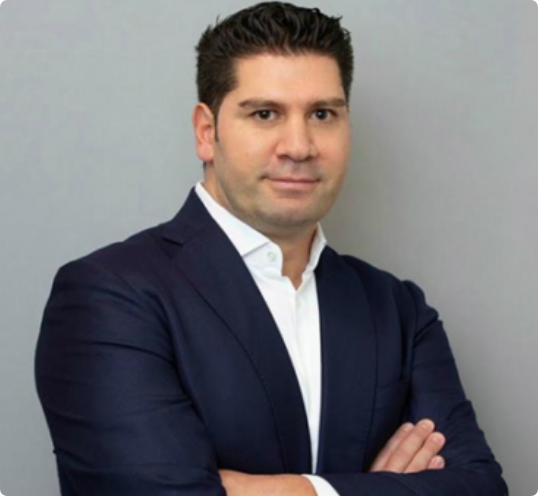 Slide
CEO & FOUNDER OF ALPINE CAPITAL
Aaron Adams
He is currently the CEO of Alpine Property Management and Alpine Capital Solutions, as well as managing partner in a private equity firm and managing partner of several dozen companies.
Slide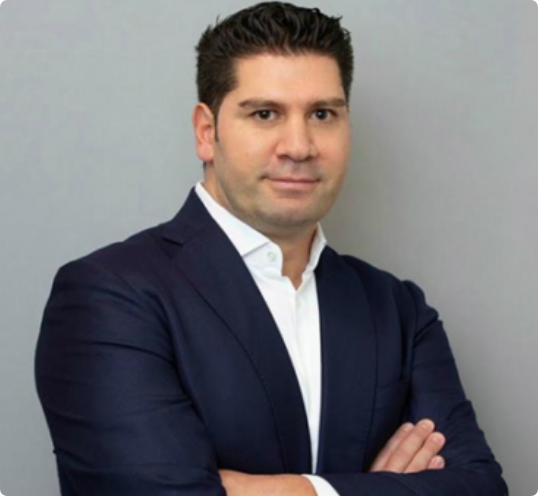 Ramez Fakhoury
As an entrepreneur with a rich background spanning over two decades, Ramez is deeply commited to education and inspiring individuals, empowering them to venture beyond conventional paths and diversify their investments through the power of self-direction.
Slide
Dennis Blitz
Dennis is a Self-Directed IRA, Solo 401(k), and Health Savings Account professional, active writer and speaker on the topic of Self-Directed IRAs, he monitors legislative actions relating to IRAs, Individual 401(k)s & HSAs, and is passionate about helping people just like you earn more.
Meet The IRA Club Experts​
FDIC Insured
Your IRA/401(k) cash is FDIC insured
Flat Fee Structure
We offer flat fees and straightforward pricing
Free IRA Reports
Get free annual IRA tax reporting
RMDs, 1099-R, 5498, 5500 Forms
Investors Row
Explore alternative investment opportunities
Concierge Service
Our features include white glove concierge services
Educational Resources
Up-to-date educational resources on IRS regulations
Sign Up For our Webinar & Receive a FREE E-book
Learn the 15 ways to increase returns, reduce risk, and save of your taxes.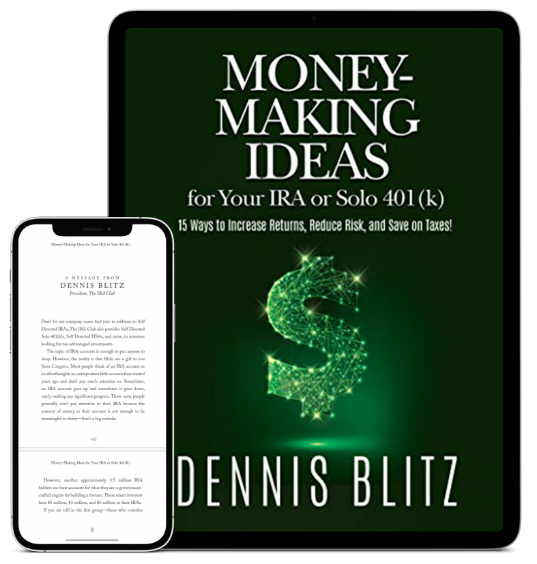 Frequently Asked Questions
Here are the most common Self-Directed IRA questions. Have others?
Sign up for our webinar and ask us in person!