Real Estate Investing for Retirement: Harnessing the Power of Self-Directed IRAs
Take control of your future and discover a better way to invest for your retirement with a Self-Directed IRA hosted by IRA Club and Real Estate expert, Aaron Adams.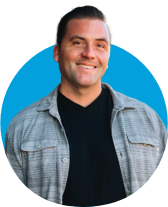 Aaron Adams
CEO & Founder
Alpine Capital Solutions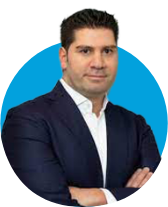 Ramez Fakhoury
Vice President
IRA Club
Dennis Blitz
CEO & Founder
IRA Club
October 7th, 2023 11 AM CT

Founded
In 2008

Members
Administered

1 Billion
in Assets

Full-Time
Dedicated Staff

Nationwide White
Glove Service
The benefits and potential of Self-Directed IRAs
How to diversify your retirement portfolio with real estate investments
Strategies for identifying promising properties and calculating potential returns
How to reduce your investment risk and maximize your returns
Slide
"Working with the IRA Club has been a great experience. They are professional, competent, and responsive. I have appreciated the communication and help with their platform. I highly recommend them.
Slide
I have received excellent service and attention from the staff at IRA Club. From the moment that I was introduced to them as an organization and all the way through the process of getting my accounts funded, they have been extremely responsive and an organization that I have recommended to several friends and family.
Slide
IRA CLUB is everything I was hoping for and more. They helped make the property sale, 401k transfer, and the entire transaction flawless! You'll likely talk to various IRA CLUB reps, but each one had a role and they executed flawlessly. Thank you, for making my first IRA CLUB experience perfect.
Since IRA Club opened its doors, they have helped thousands of people just like you secure their financial future. Meet the experts you'll be hearing from.
Slide
CEO & FOUNDER OF ALPINE CAPITAL
Aaron Adams
Aaron Adams has been a full-time real estate investor since leaving his job teaching high school Spanish in the early 2000's. He has purchased thousands of properties in California, Indiana, Missouri, Texas, Florida, Idaho, Nevada, North Carolina, and Illinois. Aaron has purchased several thousand properties with a particular focus on single family homes in blue collar and middle class neighborhoods.
However, his scope of experience includes apartment complexes, commercial property, new construction, and mobile home parks. He is currently focused on Indianapolis, Charlotte, Kansas City, and Dallas. Aaron was born and raised in Las Vegas, Nevada and Atlantic City, New Jersey and attended college in both Utah and California.
Aaron has a Master's Degree in Business from Cal Poly Pomona and is fluent in Spanish after spending two years in Venezuela when he was 19-21 years old. He is the proud father of two sons, Casey and Thomas. He is currently the CEO of Alpine Property Management and Alpine Capital Solutions. He is also managing partner in a private equity firm and managing partner of several dozen companies.
Slide
Ramez Fakhoury
Ramez Fakhoury is an entrepreneur with over two decades of experience where he has honed his skills in diverse sectors such as hospitality, financial services, and real estate. Serving as the Vice President of the IRA Club, his primary goal is to unlock doors and open opportunities for investors. Ramez is deeply committed to educating and inspiring individuals, empowering them to venture beyond conventional paths and diversify their investments through the power of self-direction. By offering a white-glove customer service experience, he aims to empower individuals to reclaim control over their retirement.
With this mantra as his guiding principle, he strives to facilitate financial independence and enable individuals to shape their own destinies. Join the thousands of IRA Club members through this transformative journey and navigate the intricacies of the economic landscape to reach financial freedom.
Slide
Dennis Blitz
Dennis Blitz is the founder and president of IRA Club. Established in 2009, IRA Club is a nationwide administrator of Self-Directed IRAs, Self-Directed 401(k)s, and Self-Directed Health Savings Accounts (HSAs). We provide consumers with unbiased information to help them maximize the value of their accounts.
Blitz is also an author. His newest book, Make Money During the Biden Administration: 15 Ways to Increase Returns and Save on Taxes Using Your IRA or Solo 401(k), is a must-read for any investor concerned about how to prosper during an era of rising inflation and increased taxes. Blitz has also written Money Making Ideas for Your IRA or Solo 401(k), Save Smart, Earn More: The New Rules for Retirement Investing, and numerous texts for investment professionals in the broker/dealer industry.
Prior to establishing the IRA Club, Blitz was president of Dearborn Financial Publishing, which was the nation's largest provider of education for financial professionals. Before Dearborn, he was the president of The Blitz School, the country's first "national" securities school for financial professionals (SEC, NASD, FINRA).
Meet The IRA Club Experts
FDIC Insured
Your IRA/401K cash is FDIC insured
Flat Fee Structure
We offer flat fees and straightforward pricing
Free IRA Reports
Get free annual IRA tax reporting
RMDs, 1099-R, 5498, 5500 Forms
Investors Row
Explore alternative investment opportunities
Concierge Service
Our features include white glove concierge services
Educational Resources
Up-to-date educational resources on IRS regulations
Sign Up For Webinar & Receive a FREE E-book
Learn the 15 ways to increase returns, reduce risk and save on your taxes.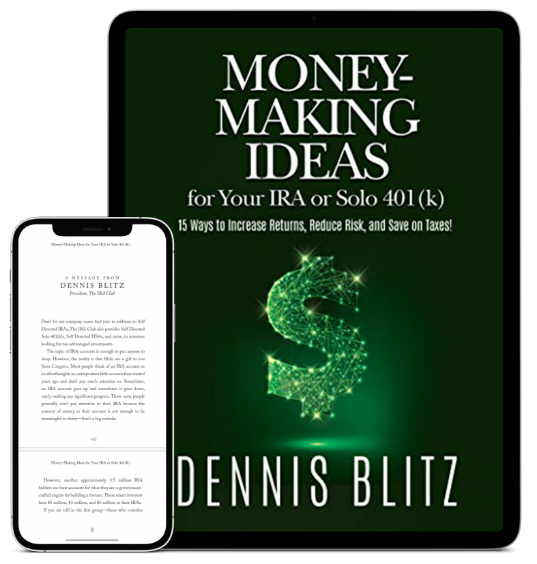 Frequently Asked Questions
Here are the most common Self-Directed IRA questions. Have others?
Sign up for our webinar and ask us in person!